Our Story
Customer Focused Investment Casting
Eagle Precision Cast Parts, Inc. is one of three independent companies that make up The Eagle Group. Together, The Eagle Group provides full-service metalcasting and CNC machining services utilizing a wide variety of state-of-the-art tools and techniques.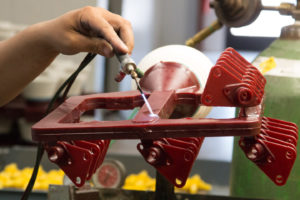 Eagle Precision Cast Parts, Inc. was founded in 1991 by Mark Fazakerley and John Workman to complement their already successful shell mold sand foundry, Eagle Alloy, Inc. Eagle Precision first sold an investment casting to a military antenna manufacturer that had production requirements of up to 2500 pieces per week. With Eagle Precision's high level of quality and attention to detail, the company continues to supply this casting to the same customer for the same military application.
Eagle Precision has grown steadily since its inception, and now produces over 1000 different part numbers across many different industries.
Eagle Precision is located on the same Muskegon, MI campus as Eagle Alloy, Inc., and continues to expand its facilities as demand grows. In 2012, Eagle Precision added 15,000 sq-ft to its manufacturing facilities to accommodate increased volume of sales and production levels, bringing total manufacturing space to approximately 55,000 sq-ft. This expansion included increasing the climate-controlled area of the facility from 8000 sq-ft to just over 17,000 sq-ft. Eagle Precision added an additional expansion in 2015 to accommodate continued growth. The new addition increased total manufacturing space to 67,500 sq-ft.
As an investment casting company, Eagle Precision Cast Parts takes pride in their reputation for producing top-quality parts that regularly exceed expectations. However, management can't take all the credit. Eagle Precision's employees are what have made it the great company it is today, and their stake in the company continues to increase. This is due to the generosity of the principal owners, who have shared company profits annually with all employees through a profit sharing program. Employees' buy-in to the success of Eagle Precision also comes from an Employee Stock Ownership Program that transfers a significant portion of company ownership to the employees.
Our Values
In order to achieve the long term vision of the organization, Eagle Precision relies on associates at all levels who live and work by the following values.
INTEGRITY
Value actions that are fair, responsible, and proper above all else. Conduct all activities according to the highest ethical standards and measures of social responsibility.
RESPECT
Recognize that everyone, and everyone's work, is important. Give the responsibility, authority, training, and tools necessary to make decisions to the person closest to the activity.
ACCOUNTABILITY
Take responsibility for our own assigned tasks and the performance of our workgroup. Focus on ownership versus blame when encountering setbacks. Demonstrate a can-do attitude by taking initiative.
TEAMWORK
Value working cooperatively with other at all times.
CONTINUOUS IMPROVEMENT
Foster an atmosphere that values quality, constant improvement, and creativity: encourage prudent decision making; and use mistakes as an opportunity for learning.
HONEST COMMUNICATION
Establish effective, honest, and open communication among all employees, business units, and customers.
FLEXIBILITY
Be quick and flexible in responding to new opportunities and meeting customers' needs. Embrace necessary change.
IN SUMMARY:  We always ask, "What is the right thing to do?"
Quality Policy
Eagle Precision Cast Parts, Inc.'s policy is "To take all necessary steps to seek continual improvement for our internal and external customers and our quality system.  We will strive to meet all of our customer expectations through individual and team efforts while maintaining consistently good business practices.  Every EPCP employee is committed to this policy through our ISO-9001 Quality System."
As a customer focused investment casting company, Eagle Precision places a high value on the quality of each and every part they produce.
QUALITY OBJECTIVES:
Provide reliable quality products and services by striving to meet all of our customer's expectations.
Maintain a formal quality system meeting all ISO 9001 standards.
Strive to improve the quality management system continually.
Foster an atmosphere of continuous improvement and problem prevention.
Empower employees so that they can improve the systems that affect their work.
Provide education and training to all employees to support their health, welfare, and safety.
Communicate quality policy and objectives to all employees.
Communicate to employees all customer expectations that affect their work.
Develop relationships with our suppliers that emphasize continuous improvement in quality, service and support.
Provide an environment that supports teamwork.
Ethics & Social Responsibility
Charity & Volunteer Work
Eagle Precision shows its social responsibility through economic support and volunteerism to many charitable organizations including:
American Red Cross
Child Abuse Council
Community Foundation for Muskegon
Love INC
Mercy Health Partners
Muskegon Rescue Mission
United Way
USS Silversides
Wings of Mercy
Associations
Eagle Precision Cast Parts, Inc is a member of the following associations: