Jobs at Eagle Precision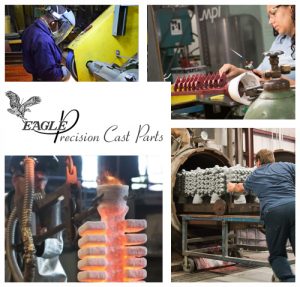 Eagle Precision Cast Parts, Inc. has several openings for jobs in Muskegon, MI.
If you're looking for a job in Muskegon, MI, now is your chance to join a growing investment casting foundry offering steady work and great benefits.
Eagle precision manufactures over 1,000 part numbers in its 55,000-square-foot facility. Our use of high-tech software and modern product design practices keep us competitive in a changing industry. Beyond manufacturing, we also offer a warm and inclusive company atmosphere. After all, our company is partially owned by its employees through an ESOP program.

To apply for a job at Eagle Precision, please fill out our online application or come to our office at 5112 Evanston Ave Evanston Avenue, Muskegon, MI.
Open Positions

We are currently hiring for General Foundry Labor
To apply, please fill out our online application or come to the Eagle Precision office at 5112 Evanston Avenue, Muskegon, MI.
General Foundry Laborer Job Information:
Duties
Molding, pouring, grinding, sorting and inspection

Additional general labor as needed
Period
Full time
Compensation and benefits
Competitive pay (hourly)

Additional benefits
Profit sharing

ESOP (Employee Stock Ownership Plan)

On-site medical clinic for employees and family members

Health insurance, including dental & vision

Earned vacation
Requirements:

No specific education or experience is required

Physical requirements include, but are not limited to:
Ability to stand for long periods of time

Ability to lift 50 lbs.

Exposure to extreme heat conditions



Curious about what we do at Eagle Precision? Read more on our Services page.