Jobs at Eagle Precision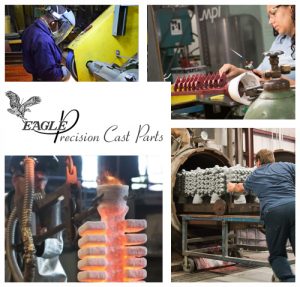 Eagle Precision Cast Parts, Inc. has several openings for jobs in Muskegon, MI.
If you're looking for a job in Muskegon, MI, now is your chance to join a growing investment casting foundry offering steady work and great benefits.
Eagle precision manufactures over 1,000 part numbers in its 55,000-square-foot facility. Our use of high-tech software and modern product design practices keep us competitive in a changing industry. Beyond manufacturing, we also offer a warm and inclusive company atmosphere. After all, our company is partially owned by its employees through an ESOP program.

To apply for a job at Eagle Precision, please fill out our online application or come to our office at 5112 Evanston Ave Evanston Avenue, Muskegon, MI.
Open Positions

Plant Manager
To apply for the Plant Manager position, please fill out our application on HR Collaborative
Plant Manager Job Information:
What you will do:
Plan, organize, direct, and manage day-to-day operations to ensure customer satisfaction, optimize productivity, and minimize costs while upholding stringent quality standards
Lead, motivate, assess, and coach team members to enhance their skills and foster a culture of continuous improvement
Collaborate with supervisors, leads, and maintenance teams to effectively allocate responsibilities and drive operational excellence
Oversee and monitor operations in alignment with overall objectives, emphasizing safety, quality, and performance improvements, to meet manufacturing goals
Drive Lean and Continuous Improvements initiatives to streamline processes and enhance overall efficiency
 Our ideal candidate will have:
A minimum of 5 years of experience in a similar role is preferred
Experience in a foundry/casting setting is a valuable asset
Experience working in the metals, machining, or die-casting industry is highly preferred
Demonstrated ability to lead and inspire teams
Strong interpersonal and communication skills, and the capacity to organize and plan effectively
A proven track record of achieving manufacturing and operational goals
Experience with Lean and Continuous Improvement methodologies is highly desired
What we offer you:
Annual base salary range of $95k-118k (plus variable compensation)

Profit sharing
Bonus
Employee Stock Ownership Program (ESOP)

On-site medical clinic for employees and family members
Health insurance, including dental and vision
Life and short-term disability insurance
PTO and holidays
---
General Foundry Labor
To apply, please fill out our online application or come to the Eagle Precision office at 5112 Evanston Avenue, Muskegon, MI.
General Foundry Laborer Job Information:
Duties
Molding, pouring, grinding, sorting and inspection

Additional general labor as needed
Period
Full time
Compensation and benefits
Competitive pay (hourly)

Additional benefits
Profit sharing

ESOP (Employee Stock Ownership Plan)

On-site medical clinic for employees and family members

Health insurance, including dental & vision

Earned vacation
Requirements:

No specific education or experience is required

Physical requirements include, but are not limited to:
Ability to stand for long periods of time

Ability to lift 50 lbs.

Exposure to extreme heat conditions



Curious about what we do at Eagle Precision? Read more on our Services page.